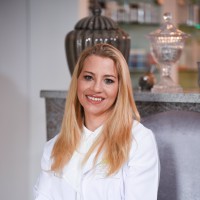 Dr Tarryn was born and raised in Kwa-Zulu Natal. After matriculating she moved to Cape Town and studied Beauty Therapy for a year, before going on to study Physiotherapy at the University of Cape Town.
She completed her degree in Physiotherapy in 2007 and then moved to Johannesburg, where she worked at Chris Hani Baragwanath Hospital's Burn Unit. It was during this time that she realised that working with people was a passion and decided to fulfil a lifelong dream of becoming a medical doctor.
She finished her medical degree at the University of Witwatersrand in 2012 and then relocated back to the beautiful city of Cape Town. She completed her internship at Victoria hospital and her community service in Emergency Medicine, at Groote Schuur Hospital. Following this, she worked in private practice, as a locum in general practices' and emergency departments.
Her interest in anti-ageing, aesthetic and cosmetic therapy began as a Beauty Therapy student, and this passion intensified throughout her medical career. She has witnessed first hand how the treatments and procedures at the Renewal Institute allow for one's self-assurance to be uplifted. She has always wanted to be involved in improving the wellness of her patients and believes that the Renewal Institute encompasses all the holistic qualities that will allow her to improve the overall health and confidence of her patients.