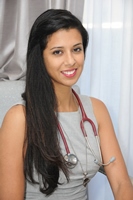 Dr Sattar is thrilled to be a member of the Renewal Institute team and consults at the Claremont, Constantia and Cape Quarter branches in Cape Town. She believes that investing in one's skin is imperative. Regardless of the clothes you choose to wear, you have to wear your skin every day, and your skin is the organ always on show to the public.
She champions the achievement of great skin through maintaining good internal health, reducing external risk factors, and using scientifically sound therapies to prevent, manage and reverse undesirable cosmetic concerns. She draws on the experiences of her varied medical career to help her patients achieve their skincare goals.
She graduated with her doctor's degree (MBChB) from the University of Cape Town (2006). Thereafter she completed her compulsory internship and community service for the Department of Health. In 2011, while conducting research and managing international randomised community trials, she was awarded a Fogarty International scholarship to attend the prestigious Bloomberg School of Public Health at Johns Hopkins University in the USA. She also obtained her Master's degree in Public Health from the University of Cape Town (2013) and holds a diploma in HIV medicine from the Colleges of Medicine South Africa (2014). Dr Sattar is certified to perform aesthetic medicine procedures. She is a member of the Health Professionals Council of South Africa.
She lives in Cape Town with her husband and her Abyssinian fur-child. She spends her free time writing (everything from scientific articles to poetry), and belly-dances twice a week to keep fit.