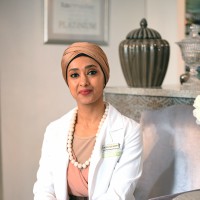 Dr Sedicka is an integrative medicine specialist. She focuses on using integrated holistic interventions in the healing and prevention of medical conditions and to reach optimum balance.
Her experiences include working at Groote Schuur Hospital in all departments of health and day hospitals, Mitchell's Plain District Hospital in internal medicine and Red Cross in paediatric medicine and emergency care. She also did locum work in a wide variety of environments and specialised fields.
She developed an interest in integrative medicine. She subsequently did postgraduate studies in integrative medicine and then opened a private practice. Her goal is to merge her conventional medical knowledge with integrative medicine and to specialise in Prophetic and Tibb Medicine.
As an integrative medicine specialist, she uses platforms to make society at large aware of their current state of health in a very holistic and integrated approach. She acknowledges the impact of chronic diseases on people's personal lives as well as on their work performance. She would like to assist employees to gain a better understanding of their current health status in order for them to make informed decisions regarding a healthier and more balanced lifestyle. She focuses on a holistic approach which also includes awareness of nutrition.
Dr Laskery also uses coherent laser therapy and is of the opinion that integrative medicine is the best foundation to a practice in health.
She started her journey with Renewal Institute in June 2017 in order to build on her career and to help more people be the best they can be.