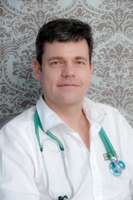 Dr Graham 'Jason' Duncombe qualified as a general practitioner at the University of Pretoria in 1995 and has spent the past 18 years in private practice. Further to this, he has been employing anti-ageing medicine and expanded his field of expertise to aesthetic medicine, obtaining his certificate to administer Botox®, Dysport® and other aesthetic treatments from The South African Academy of Anti-Aging Medicine.
He was partner and owner at the Genaesthetics Medical & Aesthetics Practice up until 2007.
Dr Graham is proud to be a part of the Renewal Institute group, consulting in the Cape region as well as the Durban region.
He is registered with the Health Professions Council of South Africa, The South African Academy of Anti-Aging and Aesthetic Medicine, The American Academy of Anti-Aging Medicine, World Society of Anti-ageing Medicine & The International Hormone Society.