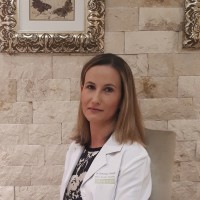 Dr Dominique is a General Practitioner with a special interest in Aesthetic, Anti-ageing and Cosmetic medicine. She is based in Cape Town and works between Constantia, Claremont and Cape Quarter.
She graduated from the University of Pretoria with the degree Bachelor of Medicine and Surgery (MBChB) in 2004. Thereafter she completed her internship in 2005 and her community service 2006.
In 2007 she decided to stay on in the public sector and worked as a Senior Medical Officer in the Family Medicine and Accident/Emergency department. In 2008 she decided to move into private practice and worked as a GP.
During the years, she developed a special interest in Dermatology and Aesthetics and completed various courses in Aesthetic medicine during the years. In 2009 she started working at the Aesthetics Centre, Johannesburg. There she gained a vast amount of experience and knowledge in aesthetic procedures and injectables under the guidance and supervision of Dr Jennifer Irvine. Dr Irvine is well known and respected in the aesthetic field.
It was here that she realised she had found her passion and knew that this is the field of medicine she wanted to grow in.
In 2011 she and her husband made the decision to move down to Cape Town. she joined the team at The Bay Skin Care Institute, Camps Bay, where she worked as the sole doctor performing mostly injectable treatments. It was here that she was granted the opportunity to train other doctors on Botulinum Toxin and dermal filler injections.
In 2014 she was fortunate enough to join the team at Renewal Institute so that she can continue to do what she loves but also have the opportunity to be able to continue to learn and grow in an ever expanding field and have the knowledge and equipment to provide her patients with the best treatments available.
Dr Dominique is also affiliated to: HPCSA – Health Professions Council of South Africa AAMSSA – Aesthetic and Anti-ageing Medicine Society of South Africa